Éowyn is in Bali marina, Benoa in position 8:44.425S 115:12.803E
We arrived safely in Bali on the 8th September. The last 24 hours of the passage were frustrating as the light wind was dead astern and basically we motored all that period. In the approach to Benoa, we encountered a 5 knot foul tide to round off a frustrating leg!
As usual the World ARC staff were there to meet us and help with refuelling and berthing Eowyn. The marina is typical Asian sub-continent tat, having not seen maintenance for years!
Most of the other participants had already arrived and we quickly settled into the shoreside routine. Clearance involved visiting 5 official offices and filling in multiple unnecessary paperwork with even more rubber stamps. They just love their paper here. Andrei is now getting to know the other participants and a kind invitation to drinks on Voyageur helped that process. David and Susan Mackay, having already completed one circumnavigation are always a great source of information and helpful tips are always willingly passed on.
Thursday was boat repair day and I managed to replace the galley tap, a much needed job which I have been putting off for months. We discovered a new issue, the rod kicker has lost its gas, but we will put up with that at least until Cape Town.
On Friday we took an Island tour visiting various temples etc and getting a feel for Bali - in short, a fantastic culture polluted by tourism. Sadly that day we had to say goodbye to Anna from Thor VI, as she is returning to Lisbon. Rui has Juan, a new crew member.
On Saturday, Mike & I went scuba diving. A 2 1/2 hour drive took us to the wreck of the USS Liberty a wartime victim. We had 2 shore dives and were treated to a fantastic array of marine life. The highlights were 2 leaf fish, only the second time I have seen this elusive creature. we also saw many Nudibranchs and learned in this male dominated society that all the heavy work is done by women!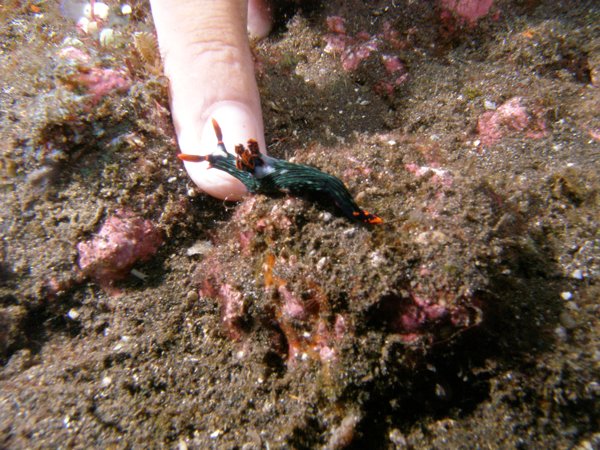 In the evening we had a reception and prizegiving. were delighted that Rui won his class. Sadly it was also time to say goodbye to Stephen Choi from Skylark who is heading on to his native Malaysia.
Balinese Dancing
Rui Gets his Prize
Today, Monday we set off to Cocos Keeling, a remote outpost of Australia in the Indian Ocean. That should take about 8 days but there is another light wind forecast!